Four Roses Distillery, Wild Turkey, Town Branch (Alltech Lexington Brewing & Distilling Co.), Woodford Reserve Distillery
In the US, legal drinking age is 21. Please drink responsibly.
Four Roses 
A California architecture firm made way for the very distinctive look of Four Roses Distillery in Lawrenceburg, KY. The Spanish Mission-style distillery was built in 1910 and is on the National Register of Historic Places. 
The distillery is expanding, so the tour was somewhat limited because of the construction. It was really informative, however. The media room featured a model of an interior section of the distillery so our guide could walk through the process in a tabletop scale. We also learned about the different mashbills and flavor profiles that are used to create the different products in their lineup. 
KBT tip: Four Roses has the best deal of the ten distillery tours. The $5 ticket gets a tour of the distillery in Lawrenceburg, a tour of the warehouse and bottling center in Cox's Creek, a couple healthy Four Roses pours, and a souvenir tasting glass.
Admittedly, Wild Turkey is not on my top sip list, but the brand is so prolific that I was looking forward to the tour. 
Beyond Wild Turkey Bourbon and Wild Turkey 101 they may be most known for, Wild Turkey Distilling Company offers more premium sips in their Rare Breed, Master's Keep, and Russell's Reserve (named for Master Distiller Eddie Russell) products. They also make rye whiskeys and bourbon liqueurs. 
The tour time coincided with a bartender summer camp program, so we got to see the master tasting room in use. The tour also included a peek at other back-of-house operations, like the control room. 
The tastings at the end of the tour included Russell's Reserve Bourbon, Wild Turkey Rare Breed, Russell's Reserve Rye, and Wild Turkey American Honey Sting. I was pleasantly surprised by the rye offering - I don't usually like ryes.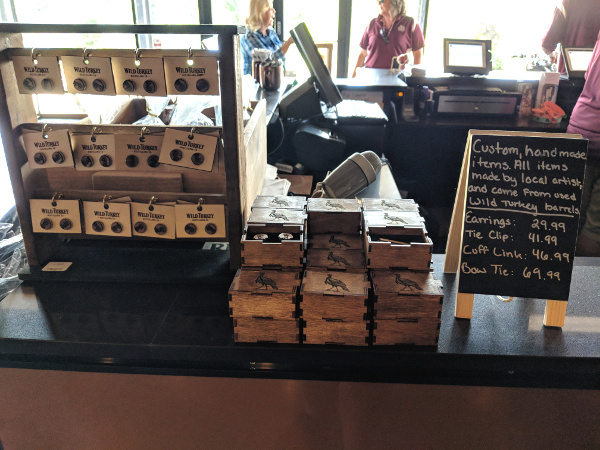 Wild Turkey sells accessories made by local artists, which was an uncommon gift shop find.
I was least familiar with Town Branch before embarking on the Trail. One of the newer distilleries, Town Branch is under the Alltech umbrella. Alltech Lexington Brewing produces a signature Kentucky Ale. While Alltech is newer, the history of brewing and distilling behind it goes back quite a ways. 
Located in Lexington, Town Branch Distillery makes a lot more than bourbon. They also had rye, malt whiskey, and gin available in the tasting room. My favorite sip was a cocktail made with their Bluegrass Sundown (coffee-infused bourbon liqueur), hot water, and heavy cream.
I was more excited about the beers on this tour - Alltech/Town Branch offers something exclusive in that way. While in the brewery, we ran into Master Brewer Ken Lee and a delivery of ingredients for Kentucky Ale.
Bourbon barrel-aged beer is popular but it seemed fitting to try a Kentucky take on it. The Kentucky Vanilla Barrel Cream Ale was enjoyable. A winter seasonal, the Kentucky Old Fashioned Barrel Ale piqued my interest. I would love to track it down near me as it comes back into season. 
KBT tip: While the tour of the brewery & distillery includes four tokens for valid for beer and liquor, they must be served in different tasting rooms. I used two tokens in the beer tasting room at the brewery and two in the liquor tasting room in the distillery, but the four tokens can be split in any way.
Lexington, Kentucky
Lussi Brown Coffee Bar
An old version of my online dating profile ended with "Coffee, whiskey, adventure… don't be boring." It makes sense that I would go on a bourbon tourism adventure, find good coffee, and try to combine the two.
Enter Lussi Brown Coffee Bar. They have a full coffee and tea menu and serve coffee and tea cocktails in the evenings and most of the day on Sundays. Their menu also has seasonal offerings, like hot apple cider. I misunderstood their alcohol serving hours, stopped in too early, and was not able to order a cocktail.
I instead ordered a much-needed soy latte - it's exhausting trying to visit ten distilleries in three days. Definitely planning to stop in next time I visit for a coffee cocktail though!
Lexington Mural Challenge
There is more to Lexington than bluegrass, bourbon, and horses.  There's an art culture including galleries like M.S. Rezny, museums like the Headley-Whitney, or the Artists' Attic collective of galleries and studios.  The Central Lexington Public Library also hosts gallery style exhibitions and there is a 21C museum hotel location in Lexington.  Beginning next fiscal year, Lexington will even set aside taxpayer money to fund public art: https://www.kentucky.com/news/local/counties/fayette-county/article217769600.html
The Lexington Convention and Visitors Bureau (VisitLex) encourages visitors to scout out street art in the community by sponsoring a mural challenge. Approximate locations of dozens of murals commissioned by groups like PRHBTN and LexArts are listed and the challenge is to take a photo with/of at least five of them. 
Upon successful completion, VisitLex sends an 11"x17" poster. I have received my poster and debated posting a photo of it but have decided not to do so. The journey of hunting down the murals is worth the surprise. I will say that the poster is more about the art than about tourism, which is quite satisfying.
There are also a lot of lovely works not part of the challenge that are commissioned by local businesses that I came across on the way to complete the challenge.
Savané Silver 
Falling in line with the art culture of Lexington and my interest in fashion as wearable art, I stumbled upon Savané Silver. Jewelry designer Rachel Savané opened a storefront in downtown Lexington after several years of success at art shows and craft fairs.
She has a background in crafts/metals and an eye for interesting shapes and beautiful stones. Her array of bracelets, rings, earrings, and pendants range in price from ~$70 for minimalist silver earrings to ~$3000 for an impressive ruby pendant. 
Rachel was more than happy to discuss different stones and finishes in the store and her online shop seems to be pretty extensive.
Water eroding bedrock along the Mississippi River results in the unique colors and formations in Kentucky Agate that Rachel uses in her designs.
Willie's Locally Known
When Chef Michael Symon says the smoked Blackberry Habanero wings should be on the itinerary, smoked Blackberry Habanero wings should be on the itinerary.  As seen on Season Two of the Food Network show Burgers, Brew, and Que, Willie's Locally Known is located in Lexington, KY and was on my list of potential restaurants to try on the trip.
I was already tempted by watching the episode on Hulu: https://www.hulu.com/watch/1303010 
But what really pushed it over the edge to a must-do was the 50¢ wing special that coincided with the trip.  
In addition to Blackberry Habanero, my partner and I tried Garlic Parmesan, Ginger Teriyaki, and Caribbean Jerk. All were delicious, but Blackberry Habanero was my favorite. We stopped in on 50¢ wing day, but would probably return for full price wings.
The most visually stunning distillery on the Trail, Woodford Reserve Distillery is tucked behind scenic farms and pastures in Versailles, KY. One of my favorites even before embarking on the Trail, I enjoyed touring the distillery to learn more about their process. 
Woodford was one of the few operating during the summer - most distilleries have a summer shut down. The buildings are not climate-controlled so the heat kills the yeast needed in the fermenting process. Woodford runs a chilled water system through the fermenters to regulate the temperature. This allows them to continue running, even through hot summer months. 
Woodford Reserve is also the only distillery that triple-distills their product. Also unique to Woodford - the barrel staves are toasted before they are charred. Many distilleries boast the level four char on the staves that give bourbon its characteristic color and flavor, but Woodford's staves are charred much less. The combination of the charring and toasting imparts the unique flavor. 
KBT tip: On Friday evenings in July, August, and September, Woodford has an evening "Friday Night Live" event. The event includes live music on the patio, tours past normal hours, and an optional dinner buffet. Focused on the wings at Willie's, we skipped the dinner add-on, but it would be a very convenient way to fit more time at the beautiful facility.
We may have skipped dinner buffet, but couldn't say no to ice cream.
Lessons Learned
This was the smoothest sailing of the whole trip, likely because our tours started earliest (9 am) and ended latest (Woodford Reserve Friday Night Live tour at 6:40 pm). It was a good itinerary to get to all four Lexington area distilleries in one day. Though, it was not enough time to take in other things the city has to offer. 
Next time, I would want to spend more time in Lexington. There are many more murals to track down and other art to peruse. There are whiskey coffee drinks at Lussi Brown's to drink! Another big part of Lexington history is horse racing and Thoroughbred Park, which I'd like to explore more. We considered taking in Lexington nightlife, but were so wiped out from a full day, we headed back to the hotel after the Woodford tour. 
If not visiting on a Friday in the summer, I believe it is still possible to get to all four in one day. A couple we ran into at the 9 am Four Roses tour and the 11 am Wild Turkey tour were off to Woodford Reserve next and presumably Town Branch later in the afternoon.
Stay tuned for next week's post detailing Day Three: Louisville-area distilleries and museums - Bulleit, Angel's Envy, and Evan Williams. Cheers 🥃